Have you ever seen those fun wordart that include a lot of words in a particular shape? Those can be used in a variety of projects. An older post listed four word cloud options, but now, Creative Fabrica has added their own.
Where to find Shapecloud?
You can access Shapecloud HERE, as part of the Creative Fabrica site. You will need an account to access this feature. A free account will grant you 5 downloads, while a subscription gives you unlimited downloads.
Once you load the page, you will see this, by default.
Let's look at the content of that page.
What about the interface?
The interface for Shapecloud includes 5 main sections that will allow you to customize your project.
1- That is the preview of your project and will include all the other settings as you select them.
2- You can add the list of words here. There are some words included by default, and you can click on the X to remove them. After all, you might not need those default words in your project.
3- This is where you will select the overall shape of the project. Some ready-made shapes are available but you can also add your own.
4- Here, you will select the font used for the words in the cloud. There are a few available, but you can also add your own if you prefer.
5- The color is selected here. By default, you will see one single color used all over, and you can change it, there is also an option to use multiple colors in a single project.
How to use Shapecloud?
Let's start by adding words in the section 2. I added 20 fall-related words and removed the default ones. You have to add the words one by one. There is no option to upload a series of words at once. Click the enter button between each or just press Return on your keyboard.
The next step is to select the overall shape. I didn't see any fall-related shapes in the ones listed, but noticed that clicking on the blue arrow gave me more categories of shapes. I will choose "Nature", hoping for a leaf.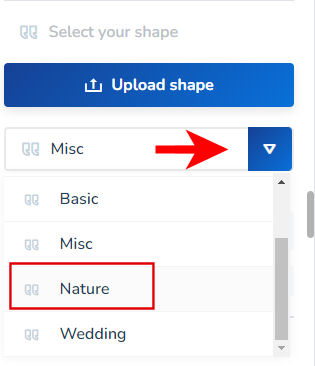 And sure enough, I get these shapes. Let's pick one.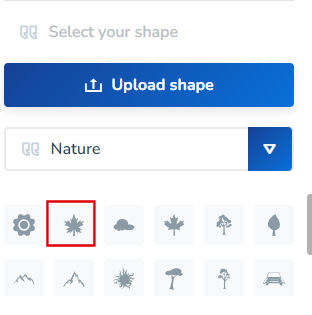 For the font, let's just select an easy one to read, like Permanent Marker.
And finally, for the colors, I would like to have multiple colors. I will click on Schema, which will then give me several color palette options.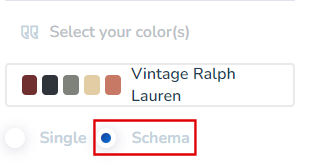 By clicking on the right side of the current color palette, it will give me a drop-down list of several other palettes. I will choose Changing Time, which seems to have nice fall colors.
Now that I have selected all the options to customize my project, I will click on the green Update changes button, on the top.

And the result will now display.
Downloading the project
Once you are happy with the result, you can click on the Download button, on the top right. Interestingly, you can download your project in different formats.
So, depending on what you need this for, those three formats are available. And you can download all three in one click too. I will likely just select the PNG format because that is what I would use in my projects.
Some drawbacks
This tool is quite versatile, and I think it is pretty neat that many settings are customizable however, I wish I could select my own color palette instead of the ones available. I might need to use a specific color to match a logo or a branding and the options offered would not work. I also wish I could use multiple fonts in a single project. Finally, it is too bad that non-subscribers get only 5 downloads, but I guess it ends up being a perk for paying subscribers!
What will you create with this resource?