When creating your next scrapbook project, you will be using a variety of papers. You can use solid papers, ombre, patterned, or textured papers. But another type of paper that is a bit less common is maps. You can use map papers in different ways. Let's have a look at some of those.
Create a template
Starting with an actual map, you can trace a contour and use it as a silhouette. You can be precise or do rough lines around the shape. And you can also use smaller sections like states or provinces, where each one can be used to display a photo or another paper. You can use such templates to illustrate where you have lived, areas you have visited, or where your ancestors come from.
Destinations
If you have gone for a trip, or plan to, you can use a map to identify your departure and your destination. You can be specific and use a precise marker or just a general area identified only with an arrow. A dashed curve will often be associated with long trips where the start and the end are the stars and not the movement in-between.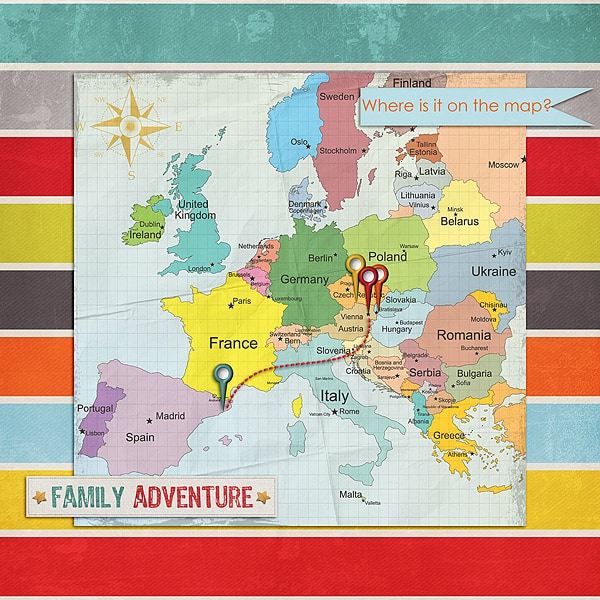 Road trips
Unlike the previous type of use, a road trip will likely be more detailed. You will want to show a path along the roads taken during the trip. You could parse that path with various stops or specific landmarks you came across.
A specific location to showcase
If you want to showcase or talk about a specific location you visited or dream of visiting, you can use a general map and point to a city or region. However, if you want to feature a larger area, no need to add a pointer as a whole map would do.
Just as a background
Even if you don't have a specific location or area to feature, if your project has a "world" theme or a travel theme, you can use a map as a background or as a patterned paper. You don't need to have an exact map so something generic might be enough.
If you are looking for map papers, check out this page at DigitalScrapbook or these vintage world maps from Creative Fabrica.