If you have been a long-time user of PaintShop Pro and got acquainted with older plugins, you know that several of them are only working on a 32-bit version of the program. This can be a little annoying if you are also using tools only available for 64-bit programs. And it is even worse since PSP2023 no longer offers a 32-bit version. What can you do? This is where the Plugin Bridge will become a great help.
What is Plugin Bridge?
As its name implies, this program allows you to bridge the gap between 32-bit plugins and 64-bit programs. It will allow you to run 32-bit plugin without having to change the version. Since PSP2023 no longer offers a 32-bit version, this plugin can be a great help.
Where to get the Plugin Bridge?
You can get the Plugin Bridge HERE.
Once you get to their site, you can download a trial version of the Plugin Bridge by clicking Trial Version.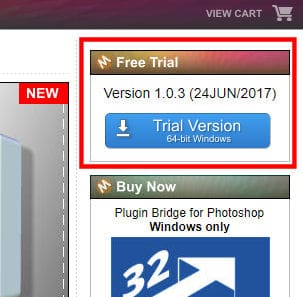 I didn't find any time limitations for the trial version, however, it will add a watermark to your image. The trial is great to see how it works and which plugin will finally work with your 64-bit PaintShop Pro. And once you are convinced you want to get it for good, you can purchase it here.
Installing the Plugin Bridge
Once you download the zip file and extract it, you will get an exe file. Double-click on that file to start the installation process. You can choose the default location for the installation.
During the process, you will see that it will automatically identify all the 64-bit programs it can be associated with. In my case, I have several versions of PaintShop Pro and an old version of Photoshop (yes, that plugin also works with Photoshop).
Once completed, you get a reminder that it will now be available in your program under "Mediachance".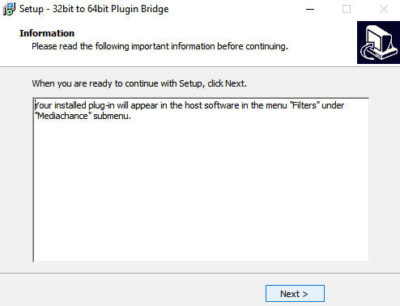 Adding Plugin Bridge to PaintShop Pro
In your PaintShop Pro, go to File > Preferences > File location, and under the Plug-ins Make sure that the PluginBridge appears on the right pane. If not, add it to the list. Notice that it is called PluginBridge and not Mediachance.
Now, Mediachance will appear under the Effects menu.
Adding plugins to the Plugin Bridge
Now that the Plugin Bridge is installed, you have to tell it what 32-bit plugins you need to access. If you want to select one plugin at a time (one .8bf file), you can choose "Add Single Plug-in".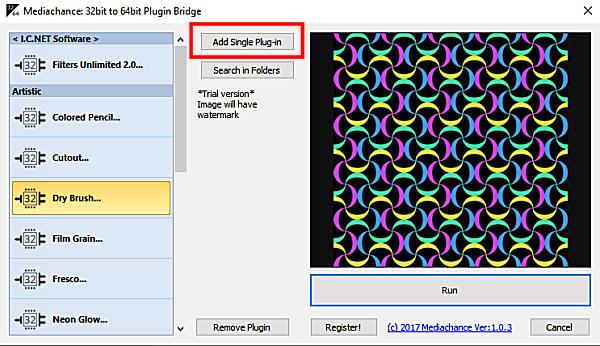 This will simply open a window where you can navigate to the .8bf file you want to add.
On the other hand, if you want to add many plugins at once, you can use the "Search in Folders" and you will just have to select a folder.
You can select one folder with a handful of plugins or one with more plugins. Either way, the Plugin Bridge will search for those .8bf files and will add them to the list. Beware that it can take a while if it has many folders and sub-folders to search.
I would also recommend that you only add a few plugins at once. If they work, that is great. But if they don't work, it takes much longer to remove them if you have already added dozens at once. I would suggest that you remove those that don't work, so you don't get frustrated trying to use them while they might freeze.
How to run those 32-bit plugins?
Once a plugin is integrated into the Plugin Bridge, you will see it appear on the list on the left pane. Simply select the plugin you want, and click on the Run button.
At that point, the plugin should open as usual and you will be able to apply whatever settings you want.
What plugins will work with the Plugin Bridge?
Although we would love to see all the 32-bit plugins work fine with this tool, it is not the case. There are hundreds of plugins so I am not able to test them all. I did test some and here is a list of some plugins that work fine with the Plugin Bridge.
Sinedot II
Creativity Splatter
AV Bros Page Curl Pro
AV Bros Puzzle
Filters Unlimited
Vizros book
Redfield Lattice Composer
KPT
EyeCandy 4000, but only some of the individual filters will work
Artistic
On the other hand, here is a list of some plugins that still don't seem to work even when using the Plugin Bridge
Mura's Meister Clouds/Copies
Medhi
VDL Adrenaline SnowScape
VM plugins
Toadies
Filter Factory
Xero
Alf Border Effects
Although the Plugin Bridge can help with some of your favorite 32-bit plugins, there are still some limitations integrated into the coding of old plugins. They could not foresee how the newer 64-bit programs and interface would work. That explains why some 32-bit plugins still won't work even if you were to use a 32-bit version of recent PaintShop Pro.
If you do test other plugins, let me know if they work or not using the Plugin Bridge, so I can add them to the lists above.