If you want to create unique patterns, you can use ready-made templates, or create your own from scratch. However, you can also use a tool to make that process simpler, and even more fun!
What is WOWPatterns?
You can access this site HERE. In includes a variety of ready-made patterns and backgrounds that can be used in your projects, whether they are scrapbook pages, cards, posters, or even for fabric printing. However, it also offers tools to create your own repeated patterns.
Ready-made patterns
The site includes a number of categories for ready-made patterns, including animal, ethnic, floral, food & drink, music, shape, space and more. You can click HERE to access this page to browse those various categories. Here is the top of the list, at the time of writing this article.
As you can see, you can already find some very interesting patterns to use as-is. And one nice feature is that most of those designs are seamless, so although the images are 800x800 pixels in size only, you can use them for larger surfaces without having to resize them.
File formats
Some designs will come in .eps format, while others come in .psd format. Remember that PaintShop Pro can usually open the .psd files. As for the .eps files, although you cannot open them directly in PaintShop Pro, they also come with a .jpg version so you can use them as is.
Pattern generator
One of the unique features of this site is the ability to create a brand new pattern from any design. Get to this page, and click on the Launch the app button. You will be brought to this page.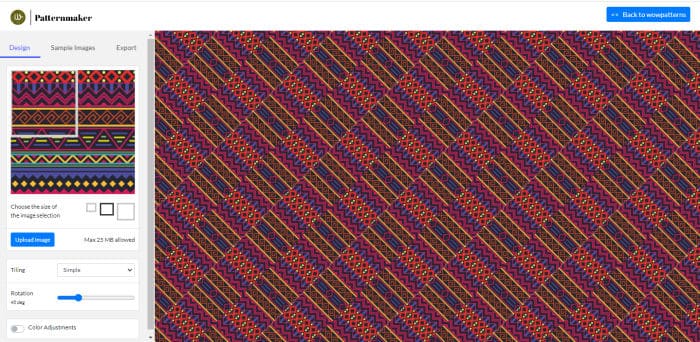 By default, you will get a sample design on the left, and on the right side, you will see a preview of the resulting pattern. Various options are available on the left pane, you can...
change the target area (small, medium or large)
move the target area somewhere else on the design to use different colors
choose a different tiling mode, including simple, cross brick, weave and more (11 in total)
change the rotation of the tiling
make some optional color adjustments
It is interesting to note that although you can use one of their multiple designs as a starting point, you can also upload your own. Let's upload a simple design, 1000x1000 pixels.
From that design, let's see some of the patterns that can be generated with the different tiling modes.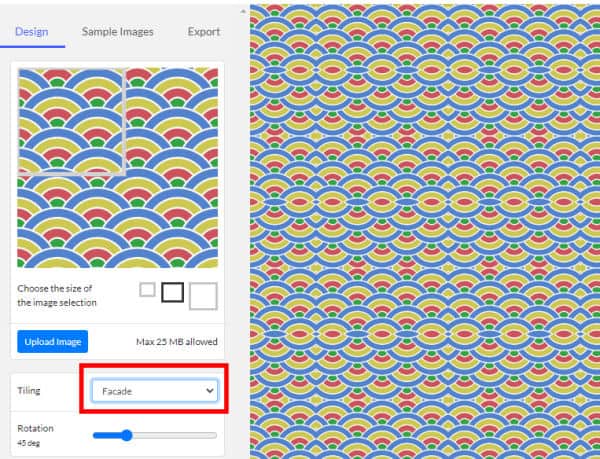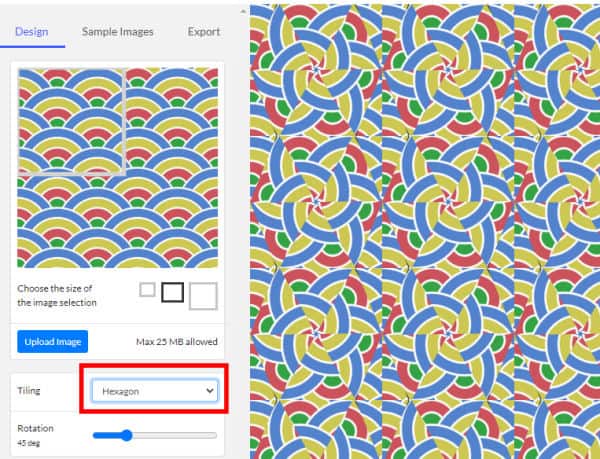 Using a photo
What would you get if you are using a photo as a base for your repeated pattern? Let's try it with this photo: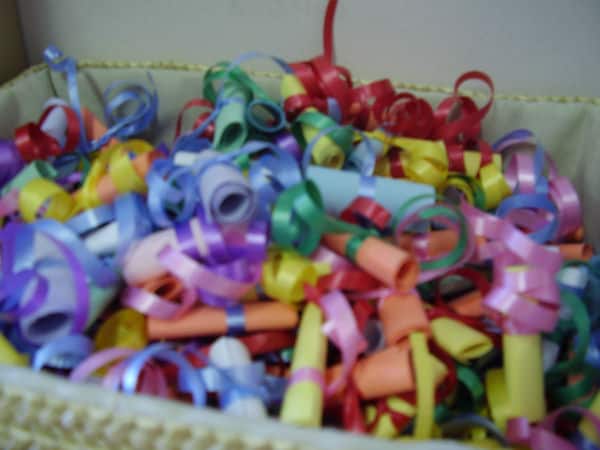 It is not a very good photo but it is colorful enough to have some potential for a repeated pattern. Let's import it into the patternmaker app, and see what kind of results we can get. The first thing you will notice is that the image will be distorted to fit into a square.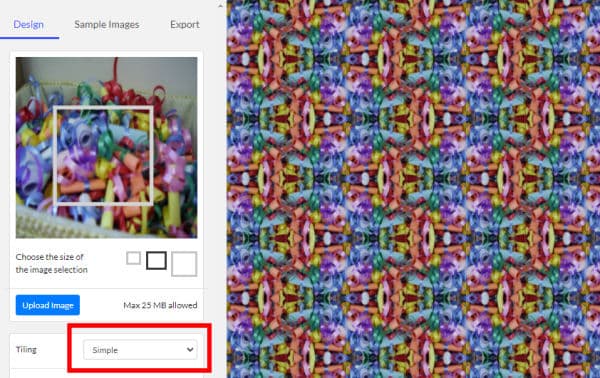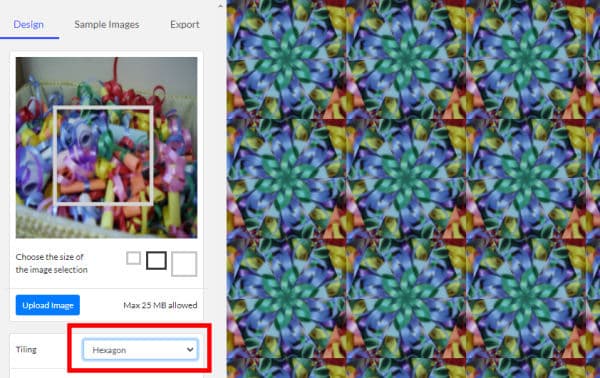 Isn't that cool?
Export your pattern
Once you are happy with one generated pattern, you can click on the Export link, on the left pane to get to these options.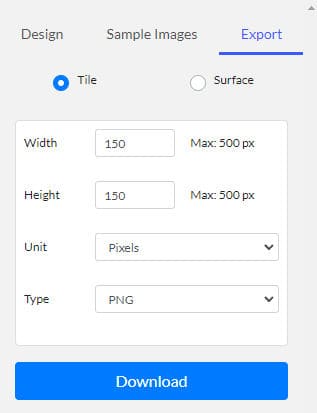 You can either choose to download a seamless tile (up to 500 pixels wide) like this one:
Or you can choose a surface image that can be as large as 5000 pixels where this pattern is already applied. If you are using PaintShop Pro, you might as well download only the "smaller" seamless tile as it will save space, and you can still apply it on any larger surface you want.