When looking for some stock images, it is tempting to just do a Google search and look through all those beautiful images that might come up. However, it is important to remember that every image belongs to someone, and the simple fact that it is uploaded to the internet does not mean it is available for your use. Let's look at another resource for you to search... safely.
Price: FREE
We all love free resources, and Pixabay is one of those. They have millions of photos and the range of topics is quite large.
Searchable
You can easily search for a specific topic and get hundreds of hits. You can search for a place like a city or country. You can also search by attributes as if you are looking for some photos of a certain color, shape, or other qualifiers. This can be great if you want to add a photo of a location that you want to showcase, if you didn't go there, or if you don't have photos of it. This can be useful if your photos are not all that great, or have been damaged over time.
Choose your size
You might not need to have a very large image, but with Pixabay, you can. When you click on the green download button, you will see the size options for you. I would recommend that you get the largest size you can. It is always easier to size down than size up (even if PSP is now doing a pretty good job).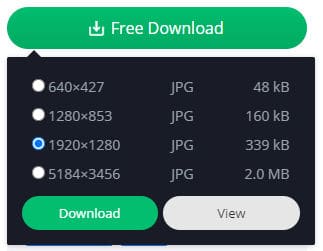 Vectors
Yes, Pixabay also offers some vector designs. Those designs are typically more "flat" and serve a different purpose than photos.
Once you search for vector images, when you are ready to download them, you can choose a PNG file that will have some transparency. On the other hand, you might also get the option to download an SVG file or an AI file, which are vectors. However, PaintShop Pro will simply open those files as a flattened image. So, unless you can open those files in a different program, you might want to avoid vector formats.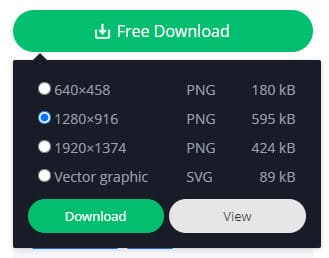 Videos
Although you might not need video clips to be used in PaintShop Pro, you might work on other types of projects that would require videos. And Pixabay also has some of those for you. Of course, you won't get as many hits as if you searched for still images, but it can still be useful.
You can also choose the dimensions of the videos to suit your project.
Music and sound effects
Yes, they have that too! Maybe you work with VideoStudio and would like to add some music or sound effects. This is a great resource to find something free. You can search with keywords but also with their filter where you can select the genre, the mood, the tempo, and even the duration.
Attribution
Even though no attribution is necessary, it is a nice gesture when you can, to add a mention of the source so it would give more exposition to the authors. Of course, it is not always convenient to add it to your project and it is probably all right.
Commercial use
One great feature of the resources on this site is that you are allowed to use them commercially. For example, if you want to use a soundtrack for an ad on Facebook or on an instructional video for a course you sell.
Check out this great resource!