If you are working with PaintShop Pro, it is very likely that you will be looking for some graphic resources and images on the internet. You might be looking for photos or extracted elements to add to your composition. There are different ways to "save from the net" but there are optimal ways to get those images in a usable format.
That is a thumbnail!
If you have been around the internet for a while, you probably know about the right-click and "Save image as..." command. Unfortunately, although it will allow you to download a copy of the image, it might end up being a small version of the full-size one. Let's search for "free floral patterns". I got these results, and one image interests me. I can see it is from Vecteezy which is a good site to get free images.
If I right-click > "Copy", I will end up with a file like this:
Notice how small the image is. In fact, if you do that, you are just copying the thumbnail and not the full-size image. If you want to use that pattern in PaintShop Pro, you likely want it in a larger format so this approach is NOT going to help you build your stash.
If you want this floral pattern, you need to go to the site itself (in this case, Vecteezy). Here, you can see that pattern among other floral patterns. Beware, this is still a thumbnail!
In order to access the full-size image, you need to click on it, which will open a new page where you will finally see a download button.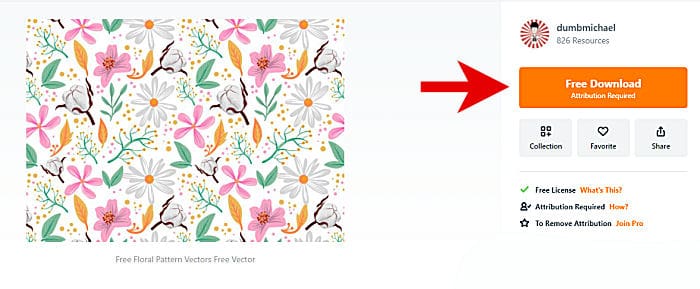 Once you click on the button, you will get a download going. Depending on the site, sometimes you can get a simple .jpg file, while other times, you will download a .zip file that will include the file you want. Once you open the file in your PaintShop Pro, notice its dimensions.
The thumbnail was just 300 pixels, while the full-size image is 1400 pixels. Let's put both images on a typical scrapbook page.
Remember that if you are downloading an image that is larger than we need, you can always size it down. However, if you download a tiny image, you won't be able to enlarge it as much for your project.
Getting PNG images
Often, you will want some elements that are already extracted from their background, in order to save some time. Various sites offer just that. You can identify some of those PNG images by that characteristic checkerboard pattern in the background. Just like for our floral pattern, if you right-click on the image and use "Copy image" command, you will still get only a thumbnail. Furthermore, you will not get a .png image, but a .jpg, so you will still have to remove that background, which is what you wanted to avoid, right?
Some well-known sites, like Vecteezy, Freepik and the like will have an easy download button to find. Use that button to download your image. It will save you the work of extracting the element that was supposed to be extracted in the first place. Some other sites are full of ads and you have to be careful in using the correct DOWNLOAD button. One little trick to find the right one is to hover your cursor over the button. See at the bottom, if it refers to a recognizable file. In this example, I visited kindpng.com site which has a lot of ads. So, here is the correct button for it.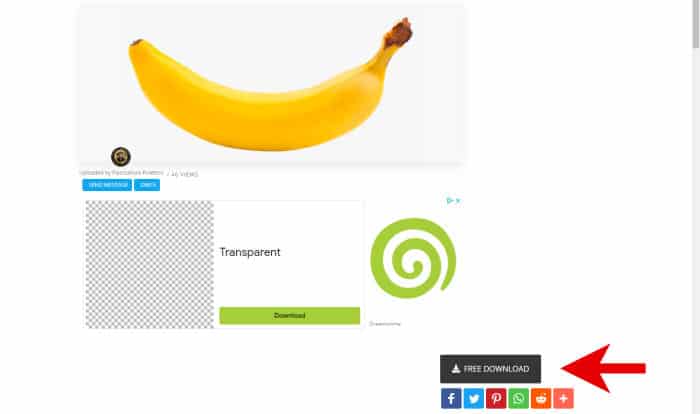 Notice that there was a green DOWNLOAD button in the middle, but it is part of an ad and would not have given me the file I wanted.
Be careful
Many years ago, there were lots of sites to download .png files ranging from flowers to toys to office supplies. Over time, many sites have disappeared. Now, you can find a few sites dedicated to .png files, but they are based on images uploaded by users, without any proof of copyrights. This means that anonymous users can upload images they illegally obtained or illegally shared. If you want to make sure you are getting a legal image, do a reverse search. If it leads you to a site where an image is sold, and you found it on a "free png" site, it likely was illegally uploaded. Of course, if you are looking for a simple image like a boat or a banana, you are probably safe to use it, but if you have characters and pinups, you have more chance to get in trouble.
The internet is full of great resources. Just make sure you use legal images, and download them correctly to get the full-size you can use.