In a previous blog post, we looked at ways to use "fancy fonts" with extra glyphs that are not natively accessible in PaintShop Pro. We explained that using the Character Map, available in Windows gave us access to those glyphs. This is a great option, however, that character map is quite small, and the display of the glyphs can be even smaller. So, let's look at a better alternative.
Character Map UWP
A member of the Campus (thanks Sue) has found a little application that also accesses and displays fonts and extra glyphs, just like the traditional Windows Character Map did. You can get it for FREE, in the Google store HERE.
Using the Character Map UWP
Once you have this little application installed, you can access it like any other program you have. The way it will display, at first, might depend on whether you have it full screen or not. You might see this compact format:
or you might see something wider:
Let's look at the main components of this window.
You have the font selection on the left, where you can either select a font by highlighting it, or you can also enter a name in the search field.
Once you type a name (or part of it) in the search field, you will see the list of possible fonts that match that search.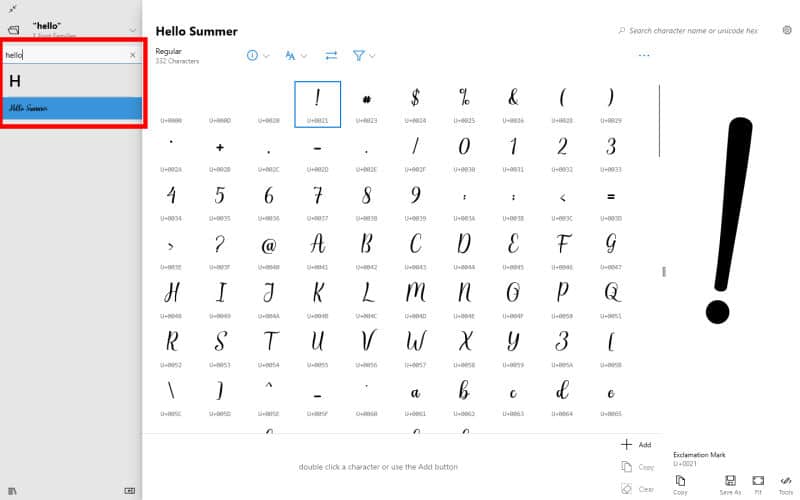 You can now see all the characters for that particular font. The extra glyphs will all be near the bottom, so you need to scroll down, and there they are.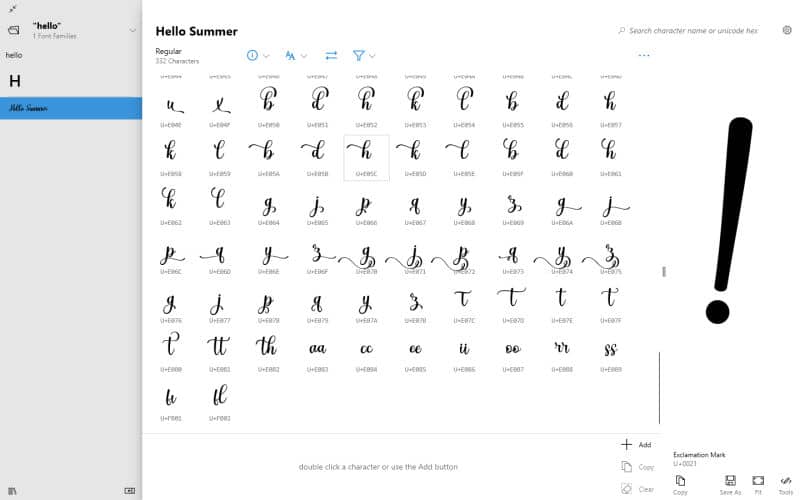 Selecting the glyphs
In order to choose the glyph you want to add to your project, simply highlight it in that list and it will display in VERY LARGE format on the right side.
This will make your work so much simpler as you can see the glyphs to choose from and what it looks like. If you only want to use a single glyph, click on the Copy icon at the bottom and it will be placed on the clipboard. You can then paste it into your PaintShop Pro project.
On the other hand, if you want to write a whole word, you can do so directly in this application. You can type in some text, which will use the regular characters, and use the Add button, in order to include those extra glyphs that won't appear when you type.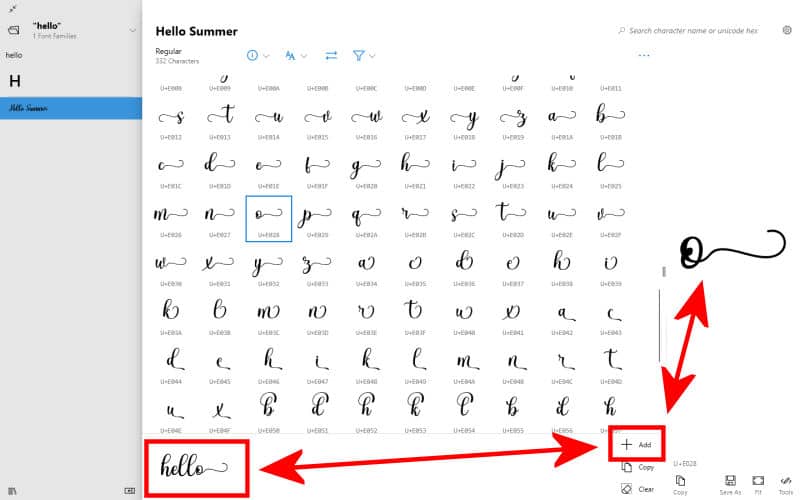 Once you have your text all set, simply highlight it and click the Copy icon.
And then, you just have to paste it into your PaintShop Pro, with the Text tool active and ready to get those characters.
Although it was also possible to type in your text in the Windows Character Map, it was very small and very hard to read. Here is a comparison, at the same zoom value.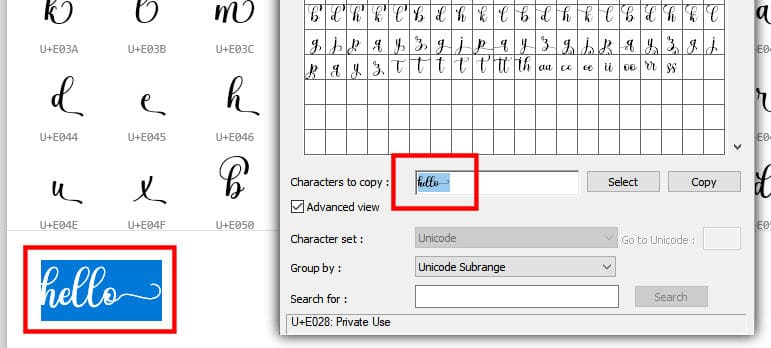 Isn't it much easier to see and work with?
If you want more information on using extra glyphs for various projects, you will love our full-length Master Class called Those Glyphy Fonts.