If you look in galleries, you might seek a variety of sizes used for the photos in layouts. Some of them will have huge photos used as a background, some will have photos taking half the space of the layout while others will have tiny photos barely visible. What is the purpose of those different sizes?
Although scrapbooking is perceived as an artistic memory keeping, some scrapbookers just want to create art and the photos are not the focus of their project. The importance of the photos and the memories might, in some cases, determine their sizes in a layout. However, other factors can determine whether the artist will use a large or small photo.
Large photos
With the new cameras and even with our smartphones, photos are already larger than the full width of a scrapbook page (typically 3600x3600 pixels). This allows you to use any photo as a background to cover the whole page. You might want to use such a large photo to showcase a particular subject or simply as a background "paper" for the rest of your composition.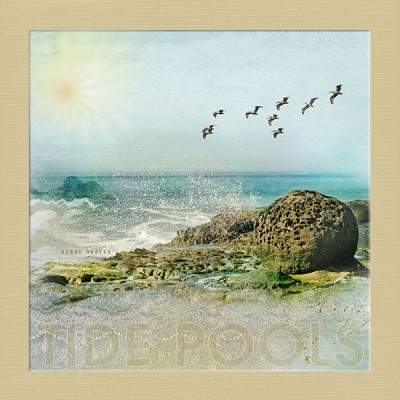 Average photos
As a scrapbooker, if you have more than one photo to include, you will likely want to use them in an "average size". This will leave room to display those photos and various embellishments and journaling. Four by six or five by seven is typically the traditional size when doing paper scrapbooking. It is likely that this habit was also carried into digital scrapbooking. The use of average-size photos gives a lot of flexibility to the user. It allows many different photo placements and leaves enough space for a lot of things without giving the impression of an overcrowded layout.
Small photos
Small photos can be used in some layouts in various specific situations. For example, if you have very old photos and were only able to have them scanned with an old machine, you might have a pretty small photo. Or you might have received a scanned photo from someone who didn't know how to scan in high resolution. You are now "stuck" with something quite smaller than you would like. Another reason to use small photos would be to focus on specific details of a photo. For example, if you have a photo of your grandson playing T-ball, you might want to have a photo focusing on the ball. In those situations, you will obviously end up with a smaller photo than if you were to use the entire image you started with. Also, enlarging such a small photo might lead to blurred or distorted images.
Multiple photos
Another situation when you might want to use small photos is if you have a lot of them to place on a single layout. Of course, in order to show 10, 12, 15 or more photos, they will have to be smaller. You might have the option to use a double page, but if you did want to keep everything on one page, you will have to consider smaller sizes.
In some layouts, the focus might not be on the photos but on the journaling. In those cases, the photos might just be an accent to the text. You might have a layout about some dreams, plans, or sequences of events. You simply want the photos to accompany those lists. That is when the focus is really on the text instead of the images.
As you can see, there is no right or wrong size to use your photos in scrapbooking, but there are some logical uses for each of them. We also will have our own preferences; some people love to use only one or two photos per page, while others love to fill them with lots of images. And everything is right too.
Do you have a preference? Did you get out of your comfort zone to try a size you don't usually use?