Do you ever work on a project in PaintShop Pro, and after many steps, you are wondering what setting you used about 20 steps back? Or after trying many different commands, you wonder which one you finally chose? That information is actually stored by PaintShop Pro and you can retrieve that information!
Where is the Edit History?
The Edit History log has been added to PaintShop Pro at version X9. You can find it under Image > Image Information and there, you will see a tab called Edit History.
Although you can access this dialog window through Image > Image Information, there is also a one-click icon on your toolbar, by default.
This means that the information is always one click away.
What is the Edit History?
The Edit History will track all the edits you have been doing to your image since it was created or opened in PaintShop Pro. It will include a lot of information that you will find useful when looking back at your project:
it will list all the steps you took, the commands you applied, the tools you used
it will include the date of those edits, especially if you have worked on the project several times, even over several months
it will include the actual settings for those tools or commands, like what settings you used for the Drop Shadow or the coordinates for the Selection tool
This history is based on the image itself and will stay with the image even if you send the image to someone else, to open on their PaintShop Pro (version X9 and up, obviously).
How can you use the Edit History?
The Edit History gives you a glimpse of what you have done, so you can use it to associate a task with a certain date, or you can review the specific settings you want to replicate in a command you applied in the past.
You can also save that Edit History log. Since there is no search feature in that dialog window, it might be simpler for you to search a .txt file that you save and open in a basic text editor like Notepad.
And from the window or the saved file, you can now see exactly what settings were used, for example, for the Drop Shadow. You can see that the Color was black (0,0,0), the Horizontal and Vertical offsets were 2, and the Blur was 7.25. Isn't that cool?
Can you turn this history into a script?
Since scripts are a series of commands, it would be great if all those commands could be turned into a script. Unfortunately, the Edit History does not include all the information needed to run a script, as there are more details that are needed to run a script. Here is a comparison for the same Drop Shadow command, in a script:
So even though a lot of information is identical, some would be missing from the Edit History to create a script directly.
Is the Edit History always recorded?
By default, every change you will do to your image will be recorded and tracked in the Edit History. However, if you have any reason NOT to save that information, you can disable that. You can go to File > Preferences > General Program Preferences and under Miscellaneous, you can uncheck the Save edit history to image meta.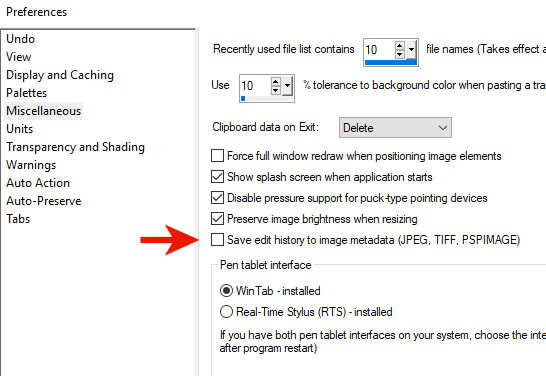 But beware that this "not recording" will affect all the edits on all the images you will work on, until you change it back.
Go ahead and check all the information that has been tracked about your last project! You might be able to answer your own question of "what command did I use to get this effect?"