In a previous article, we looked at the most common types of elements one can find in a scrapbook kit, including papers, embellishments, alphas and wordart. Most kits will include those 4 types of elements but some designers will also include other content in their kits.
Masks
Some designers will offer masks that are in different formats. Masks are meant to allow the user to show a photo through a fancy and sometimes intricate cutout shape and sometimes, with some fancy faded edges which are harder to do manually. Masks would typically be in .jpg format or in .png. Even if they are not native .PspMask format for PaintShop Pro, you can still use them without any issue following this article.
Journaling cards
A few years ago, the Project Life came to be, where scrapbookers had plastic sheets with standard size pockets and they would just have to insert a variety of photos or cards in standard shape. This was meant as a way to complete a scrapbook "page" quickly, with little to no cutting involved. This type of scrapbooking was quite popular and digital scrapbookers also liked the idea of some "cards" that they can use to write various details like dates, names or a short description. In order to meet that interest, designers have started to include journaling cards. Although one can use them as regular "tags" on their digital scrapbook pages, they can also be printed out and added for hybrid projects (traditional paper and digital). Although some cards are meant to add some information on them, others can be used as "fillers" or just like other embellishments.
Clusters
Although not all kits will include clusters, they are often a welcome addition as it uses the elements from the kit, grouped together in an eye-pleasing way. Anyone can create their own clusters, but it seems to be an art so when some are already done, it makes the process easier. You can use a cluster on its own, or with a photo or a journaling.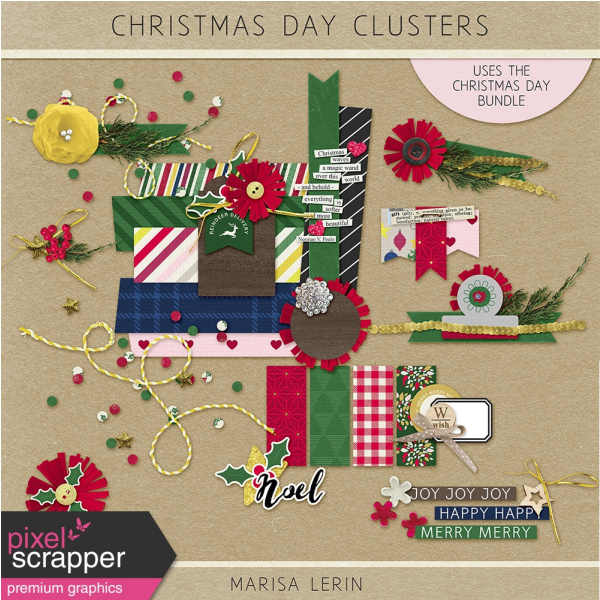 Templates
Once in a while, a designer will create a kit and include a blank template to help the scrapbooker use their kit and elements. Of course, the template could be used in many other ways, and with other supplies, but it can also be a great starting point for someone in need of inspiration. Templates will typically be a series of layers of solid color elements that should serve as guides. The user can trim papers and elements based on the shapes of the layers, or they can go in a different route. Templates are more often packaged together, and much less often with a kit itself, but it can happen.
Quick pages
When a designer creates a kit for selling, it is common to see a quick page made from the paper and elements from the kit. Most often, the quick pages will be given for free as a way for a potential customer to see the elements closer and see if they are interested in the full kit. However, it can happen that the quick page will be part of the kit itself. Quick pages are basically ready-made pages, in .png format, where the user can simply put the photos behind the "holes" and add a title or text and the scrapbook page is done. It is probably the fastest way to complete a page, although it has less flexibility than using the individual elements.
Other elements
Other elements could be included in some kits but often are not usable as is, in PaintShop Pro. We can see Brushes, Shapes, Path and Styles. Although we can convert Brushes and Shapes to be usable in PaintShop Pro, it is not the case for Paths and Styles, unfortunately.
What other elements have you found in some scrapbooking kits over the years?