Yesterday, we looked at various projects that are available in the Creative Christmas bundle but there is so much in that bundle that i could not list them all in a single blog post! So, here are more goodies you will get in that bundle.
Jen - 12 Day Advent Envelopes
Whatever you want to put in those envelopes, they are really nice in shape and the instructions are so simple. Use them for Advent, but remember that you can also customize those envelopes for other occasions!
Melissa - Your December solution
Do you want to document the 31 days of December with all the activities going on before and after Christmas? D0 you think it is an impossible task to do scrapbooking for 31 days, especially at this busy time of the year? Melissa has a solution: a complete package of time-saving goodies. You will get 31 layered templates, a full kit with a holiday theme, and complete instructions too. Melissa is using Photoshop Element, so if you happen to have that program on your computer, it will be perfect for you (although the supplies can also be used with any other graphic program).
Jen - Let there be night
Although most of the supplies in the bundle are related too paper crafting or scrapbooking, Jen offers something a little different: embroidery patterns. Those remind me how much pleasure i had doing embroidery when i was younger, how relaxing this activity was. And if you are not into thread-crafts, you can still use those patterns with dots of paint, or even some "color by number" projects with the kids.
Margareta - My Dream December
We ALWAYS look for last minute holiday cards. Margareta is offering you some super simple and cute printable. Load the file and print. That's it. Whether you want some 3x4 or 4x6 cards, you have what you need to make something super quick, without a trip to the store.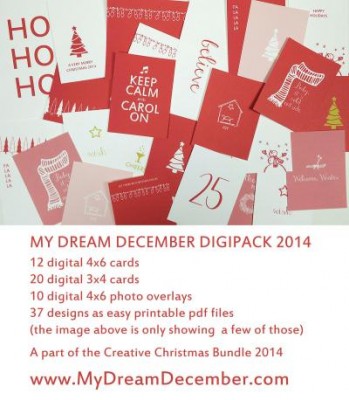 Mary and Jackie - Photo gifts
Are you going to take pictures this holiday season? Of course you are. But do you know that you can also use either last year's holiday photos or some from the past year to create unique gifts? Check out what Mary and Jackie have in store for you.
Lisa - Santa's Helpers Workshop
Oh, did i wish i still had kids at home! Those projects are so cool!!! I surely will have to find some time to make a couple of those projects which will be perfect for some specific presents i am giving this holiday. OK, i need more helpers to do them all!
Cassel - Calendar Making Class
Finally, you might even recognize the last class as one from the Campus. It is a perfect project for beginners with Paintshop Pro as it will walk you through all the steps needed to create a 12 page calendar. You get all the supplies you need and the pages are quick-pages, for which you just need to pick a photo and plop it into place.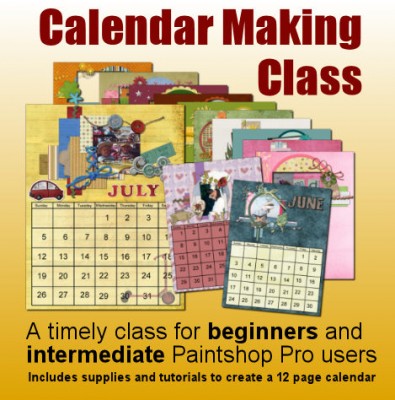 So there you go, 15 projects from 15 different designers. You will have ideas, supplies and instructions for surely more projects than you have time to do, but you can always start getting ready for next year too! Hurry as this bundle is ONLY AVAILABLE until Monday Dec 1st, 2014. After that, it is not going up in price, it is going up in smoke and you will have to go purchase each of them individually from each designer.
Right now, you get the whole bundle at 90% off the price of each class/product purchased individually.