When it comes to family bonding, most people would agree that food plays a big role in the event. It can be a potluck where everyone brings their favorite dish, or it can be a more traditional meal that is served family-style. However, one of the best activities to do during a family get-together is grilling. Grilling is a summertime favorite and with good reason. There's nothing like the taste of food cooked over an open flame.
One of the best things about grilling is that you can cook a variety of foods at the same time. This is perfect for families with different food preferences. You can grill chicken, steak, fish, veggies, and more all at the same time. That way, everyone can get their favorite food without having to wait. Plus, grilling is a great way to get everyone involved in the cooking process. It is a great activity to do together as a family. You can bond while you cook, and then enjoy a delicious meal together. Whether it's flipping burgers or assembling kebabs, everyone can help out and make the experience even more fun.
If you're looking for a fun and unique activity for your next family gathering, look no further than grilling! Not only is grilling a brilliant way to make every family member to participate, but it's also very accommodating for different dietary needs. Plus, it's delicious! We're sure you have many fond memories of grilling with your family. Be inspired by these fabulous layouts and treasure those beautiful moments in a page!
Barbecue
Whether you're cooking up a big batch of ribs for a family reunion or grilling some burgers for a backyard barbecue, there's no doubt that barbecue is the perfect way to enjoy the warm weather. There are some common elements that make it a unique experience. From the way the meat is cooked to the sauces and sides that are served, barbecue is a delicious and time-honored tradition that is enjoyed by people all across the country.
Layout by Betty
Page by Lis
Layout by LynnZant
Layout by Cathy
New Grill
If you're like most people, the sight of a new grill is enough to make your heart race. Whether it's your first grill or your hundredth, there's something about a shiny new piece of cooking equipment that just makes you feel good. So set it up and start firing up that grill!
Layout by Janet
Grill Master
There's nothing quite like the taste of food cooked on a grill, and the experience can be even more enjoyable when done with friends and family. It's also a fun way to show your love for your friends and family. When you grill, you're not just cooking food, you're creating memories. Grilling is the perfect way to show your loved ones how much you care.
Layout by Lis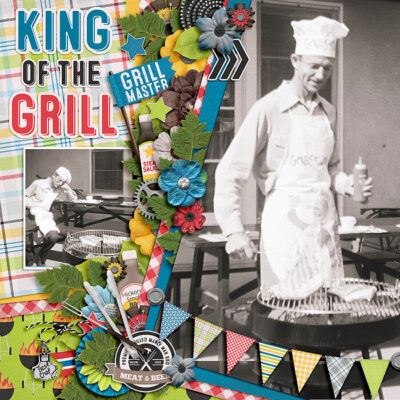 Layout by Tammy
Layout by Justowen
Picnic Grill
Whether you're at the park, the beach, or in your own backyard, grilling is the perfect way to enjoy a delicious meal outdoors. And when the weather is nice, picnicking is the perfect way to enjoy all that great grilled food.
Layout by Marina
Whether you want to add some chicken, a juicy steak, or colorful brochettes of vegetables, you can add them to your grilling alphabet. Use those letters for a title or as the main detail on the page.
Click HERE to get this alphabet.