Father's Day has been celebrated for millennia, but it was not until the 20th century that it became a global holiday. The earliest known Father's Day celebration dates back to the ancient Romans, who celebrated a holiday called the "Feriae Dadastae" on March 15th. This holiday honored the god Jupiter, who was the father of all the gods. The Romans also celebrated a day called the "Festival of Concordia", which was a day when fathers and sons would reconcile.
Fatherhood encompasses an array of roles and responsibilities that contribute to the growth and well-being of children and families. It is a demanding but incredibly rewarding journey. Fathers serve as teachers, role models, and friends, imparting invaluable life lessons, providing emotional support, and fostering a sense of security for their family. It is indisputable that fathers contribute greatly in raising children alongside their wives. They play an essential role in maintaining a strong and stable family unit and should be celebrated for their efforts.
While material possessions are always nice, sometimes the best gifts are those that money can't buy. Expressing gratitude, spending quality time, extending thoughtful gestures and most especially family bonding are some great and lovely ideas on how you can celebrate this day and make it more memorable for them. Let's take a look at some astonishing layout designs that honor fathers and father figures. These layouts are sure to inspire and remind us of why we love our dads so much.
Father's Love
A father's love is often more subtle and understated than a mother's. Fathers tend to express their love for their children in different ways than mothers. They may not be as openly affectionate, but their actions speak volumes. A father's love is steady and reliable, a rock that the family can always count on. It is unconditional and can give a child the confidence and security to explore the world and grow into their own person.
Layout by Betty
Father and Child
Fatherhood is one of the most important, and yet challenging roles a man can take on in his life. While the joys and rewards of fatherhood are immeasurable, the role also comes with its own set of unique challenges and stresses. From sleepless nights and early morning feedings, to never-ending laundry and childcare expenses, fathers often have to sacrifice their own needs and wants in order to put their children first.
Layout by Donna
Layout by June
Cool Dad
Having a cool dad who supports whatever you like is an incredibly enriching and empowering experience. It creates a nurturing environment where you feel encouraged to explore your passions, express your individuality, and pursue your dreams. With a supportive dad, you create unforgettable memories together. Whether it's attending concerts, cheering you on during sports events, or participating in shared hobbies, these experiences become cherished moments that strengthen your bond and leave a lasting impression.
Layout by Doreena
Layout by Soccerwidow
Layout by Susan
Layout by Tatiana
Treat for Dad
Treating dads on Father's Day is a way to strengthen the bond you share. It allows you to spend quality time together, engaging in enjoyable activities or conversations. This shared experience fosters a deeper connection and creates lasting memories. Whether it's a simple homemade meal, a thoughtful gift, or an outing together, the act of treating fathers on Father's Day is a meaningful gesture that will be cherished by him.
Layout by Scrapanda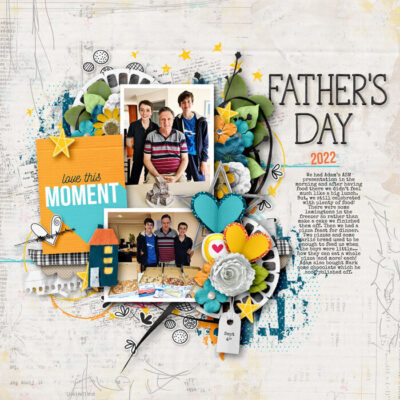 Layout by Kim
Layout by Susi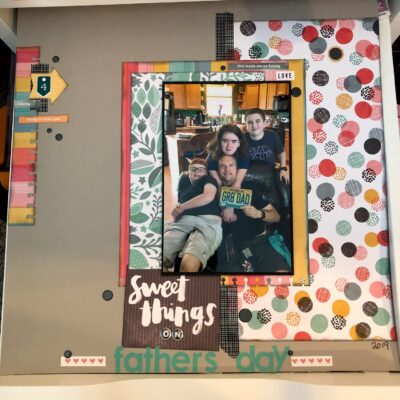 Layout by Papers 2 Pages
Layout by BarbaraUnzen
Layout by Silent Ranks
Fathers are characterized by their bond with a child of any age. These preset shapes can be used to create shadow boxes, cutouts, or other designs on a card, a poster, or a scrapbook page.
Click HERE to get these preset shapes.