The Church is a sacred place where Christians gather and worship God. In the world today, there are many ways to find and serve God. Churches have been constant in society for centuries. Churches have changed throughout time with different cultures, but they always bring out the best in us by providing a safe space for community and faith. Churches provide an avenue to volunteer within their communities and make people feel welcomed through worship services, Sunday school classes, Bible studies or just prayer at any given moment.
The word church comes from the Greek word, "kuriakon" which means a gathering or assembly of people. In Christian doctrine, the Church is more than just a building, it's an institution that provides guidance and helps its members to grow spiritually. The Church has always been about relationships and connecting with God in person. It's important for Christians to be involved in their local churches because it strengthens their faith by learning how other people deal with struggles.
There are a lot of churches out there, and they all have different beliefs. Some are Catholic while others may be Baptist or Methodist. But whatever the denomination, each church is welcoming to those who want to find faith in Christ. Surely, you have taken important events of your life in the church. Here are some awesome and magnificent layout ideas how you can display them and turn them into a page!
Baptism
Baptism is celebrated by immersion or the pouring of water with the words. This sacrament provides for entry into membership in the Church and incorporation into Christ's Body. The act signifies purification from sin and cleansing of conscience; liberation from bondage to evil desires, worldliness, and materiality; restoration of spiritual freedom through true worship and communion with God.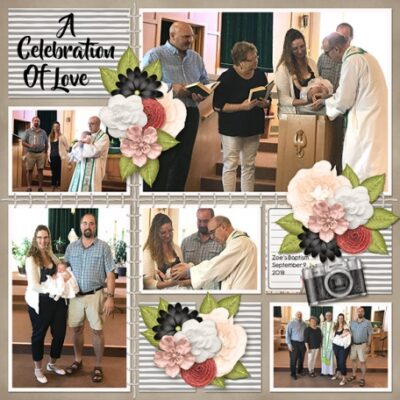 Layout by Joyce
Layout by Marina
Layout by Phillis
Wedding
Many couples want to have a church wedding. For some, it's about the religion. Others feel like this is an important part of their life that they can't leave out of the ceremony. In most cultures, the ceremony at the church is seen as a significant event in one's life. A bride typically gets ready there with her bridesmaids before walking down the aisle for their nuptials and families and friends come together to share this special occasion. Do you dream to have a church wedding?
Layout by Celestine
Layout by Celestine
Layout by Celestine
Layout by Celestine
Layout by Celestine
Layout by SusanneG
Layout by SusanneG
Church Activities
Church activities are an important way for Christians to connect with other people in their community. People who are struggling with personal issues often find a sense of solace by meeting others at church who have the same struggles. Church events are a great place to meet new friends, get involved in the community, and feel supported. Have you participated in any church activities? How was it?
Layout by Mary
Churches
Whether you're religious or not, visiting churches is an unforgettable experience. These beautiful structures offer visitors a chance to see how people of different faiths worship, as well as a glimpse into their culture and history. Different types of architecture can be found in churches around the world. The stained glass windows often provide an awe-inspiring backdrop to these magnificent works of architecture and their histories add fascinating insights into how different cultures have evolved over time. Are you one of those fascinated by different church architectural designs?

Layout by Susan

Layout by Cheryl

Layout by Henri

Layout by Betty

Layout by Celestine

Layout by Celestine

Layout by Celestine
Whether you want to showcase a baptism, christening, first communion or any other christian event, you can use one of those crosses shapes. They are preset shapes so you can create them in any size you want without losing any quality.
Click HERE to get these preset shapes.