Health awareness is very important now more than ever. While we're living in a world full of noise and constant activity, we should never neglect the fact that taking a moment to breathe, relax, and look after ourselves is a necessary thing to do. After all, each of us only has one body and we should treat it with utmost care, love and respect. Abusing it would only lead us to bigger troubles that may affect not just ourselves but also the people around us.
The government, as well as many health organizations and medical professionals, are very much aware that there are people who have less knowledge about certain illnesses and how they can avoid or cope with them. This is why we have several celebrations and events that focus on some diseases to spread awareness, give inspiration, and show some support. Have you ever joined any health awareness campaign before? Have you witnessed or heard amazing stories of survivors and how they fought and won over their disorders?
Maybe this is the perfect time to share and scrap about them!
Breast Cancer Awareness
People around the globe celebrate Breast Cancer Awareness Month every October. This is an annual campaign to increase awareness of the life-threatening condition. Although deaths from breast cancer have declined over time, it still remains the second leading cause of cancer death among women. Some may think that it can only affect women, but actually, men are also at risk of developing such disease.
Layout by Bonnie
Layout by Ruth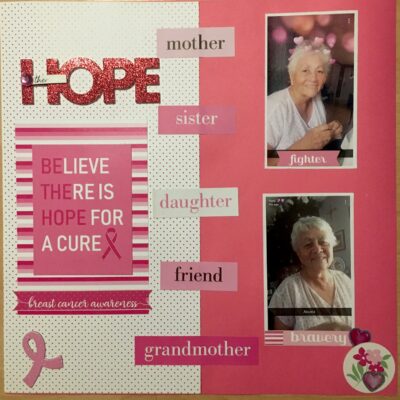 Layout by Ozelle
Heart Health Awareness
Cardiovascular disease is one of the most common causes of death and morbidity in both developed and developing countries. That's why the World Heart Federation (WHF), in conjunction with the World Health Organization (WHO), established World Heart Day in 1999 to spread awareness among people about a variety of heart conditions and the dangers they can bring. This global event takes place every 29th of September.
Layout by Christelle
Layout by Betty
Mental Health Awareness
Aside from illnesses that affect us physically, there are also ones that can have a great impact on our emotional and mental well-being. Thus, it is equally important to look after our mental health and be more mindful of our thoughts and feelings. It's a good thing that more and more people are now showing their support for individuals who are struggling with mental health issues. They even take part in celebrating World Mental Health Day, which is held every 10th of October.
Layout by Neverland Scraps
Autism Awareness
Another serious health problem that we should be genuinely concerned about is Autism. It is estimated that about 1 in 160 children worldwide suffers from Autism spectrum disorder or ASD. There are still numerous people who know nothing about this complex developmental condition. So, as to help raise awareness about ASD and increase the understanding and acceptance of people with autism, and inspire a kinder, more inclusive world, we are celebrating World Autism Awareness Day every April 2.
Layout by Dorian
Layout by Michelle
Layout by Maureen
Alzheimer's Awareness
Alzheimer's disease is one of the most common and biggest concerns many of us have as we get older. It is a progressive form of dementia that affects a person's thinking, behaviour and ability to perform everyday tasks. It is estimated that there are at least 50 million people around the world who are living with this condition. To help fight the stigma and educate more people about this neurodegenerative disorder, several individuals and organizations come together and take part in World Alzheimer's Day, which is held every 21st of September.
Layout by Karen
Layout by AngieO
There are many colors that have been associated with various health awareness campaigns. Do you want to use one of these? I am including 10 different colors. If you are looking for a color that is not included, I have also added two greyscale ribbons that you will be able to colorize as needed.
Furthermore, I am including three pins: one full pin, one silver pin going through a ribbon and a golden one also going through a ribbon. You can use those pins on any ribbon.
Click HERE to get your ribbons and pins.