June 20, 2022 at 10:57 am
#78229
Ann Seeber
1372

Superfan
Maverick, the groom-to-be and his son, Logan, my great-grandson, who was one in February. The wedding's coming up in September. The bride-to-be is my granddaughter, Ilana.
Edit: Noticed I forgot the shadows on the photos and forgot to activate the brads that were there but in hiding while I worked on the frames.
This reply was modified 11 months, 2 weeks ago by

Ann Seeber

.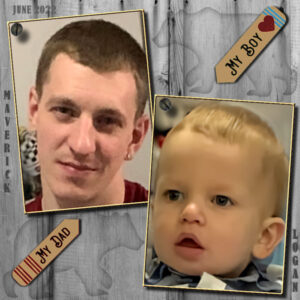 MY-BOY-MY-DAD.2022_600-1