March 14, 2020 at 8:43 pm
#40409
Sharon Wilke
140

Junior
WOW! Everyone has such phenomenal creations! Ya'll are such an inspiration to me.
Congratulations to Carole!!! Welcome to The Grandma Club. Now you have an endless supply for scrapbooking!
I pulled together Day 5's project yesterday. Of course it is of my Grandchildren, Bella and Jimi. Jimi turned 9 on February 14 and he had a Bowling Party. That's the first time I've in a bowling alley since my son was little. It hasn't changed much but I think these modern children need bowling lessons. They were throwing the ball instead of gracefully rolling it. I don't see how the floor holds up!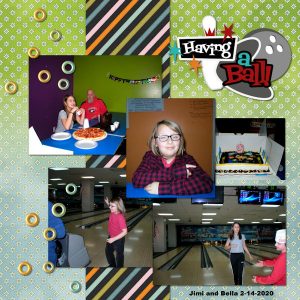 Module-2-Layout-600x600