May 26, 2019 at 2:23 pm
#29327
Cristina
1060

Superfan
This is the layout I made to practice the tutorials from the Lab9-Module 05 (Arrow Shape – Colored Bricks – Word Stickers).
The template is a freebie from Scrapping with Liz (May 2019 monthly blog challenge template). Papers are freebies from DeDe Smith (Magical Fairy Tales). I added confetti, which I made following Lab7-Module 09 tutorial.
The bow was done with Cassel's Bow2 Script. It is great to see how the script works… all these little pieces moving around and then turning out to this beautiful bow.
TFL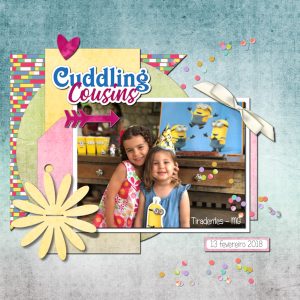 Lab9-M05