May 25, 2018 at 12:49 am
#19025
Marlene Lingham
241

Enthusiast
I am continually surprised and inspired by the many different examples of the same challenge, just goes to show that there is no right or wrong way to do these pages only what we feel looks good.
Jan I was very interested in your photos of Lord Howe Island, I have never been there but we did celebrate our 40th Wedding Anniversary on Norfolk Island. It was fascinating to learn the history of the convicts and the mutineers and to see the different conditions in which they all lived. I might use some of my photos on another day if they are suitable.
My Day 5 page features photos from my last trip to England in 2013 (which could also be my last in the other meaning of the word). I had seen the Brighton Pavilion in passing a few times before we left England but as my niece lives in Brighton we took the opportunity to visit the town with my sister and brother-in-law. The panorama was made with Image Composite Editor. The frames for the photos were done with Corel's Simple Caption script although I did change the background and the size of the font. I used two colours in the Pavilion for a very subtle gradient on the bottom and continued this in the big words – it doesn't really show that much but I didn't want anything heavy.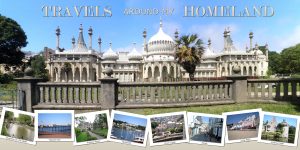 Day-5-Both-Pages