August 10, 2017 at 3:48 pm
#14409
Cristina
1055

Superfan
This is my take inspired on The Lab 07-Module 07. <span style="color: #333333; font-style: normal; font-weight: normal;">From the ideas given, I made the colored Wood Texture B</span>ackground Paper, the Negative Chevron and the Lined Overlay Papers (Cassel's tutorials).
I added the clip and the multi color title. The suggestion was multi color words, but I used a different color for each letter, using a technique taught on Masterclass "No Kit Scrap 2".
The clip is a freebie from Blue Flower Art (On This Day); the elements are freebies from www.freebies.bubururesources.info;  the date element is from Sheila Reid (Unwind). The stitching is KAagard-ByAir_BorderStitches_Black freebie.
I added cass-Beads-SeedBeads2 Picture Tube.
It was fun to follow my first lesson of The Lab… I am liking it very much.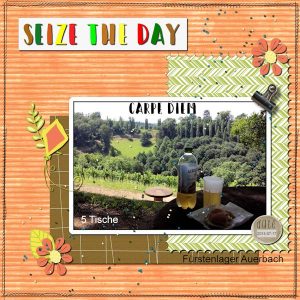 LAB-07-Module-07-Seize-the-Day-Carpe-Diem-600-1