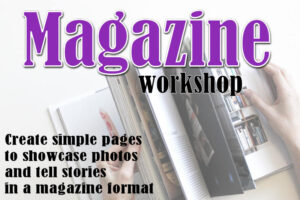 Day 6
So yesterday, you saw how to turn a single image area into multiple ones. How about the reverse? Maybe a template has areas for several photos, but you would prefer to showcase a single, larger one, even if there are some gaps. That could look like a mosaic in a way. Let's see how you can do that.
You can download today's template HERE.
This template is meant for four photos but let's change that.
In this tutorial, we combined all four masks into a single one, but you could have chosen to combine them, two by two, and have two photos. Or if you have the right photos, you could combine three masks, and have one separate. Remember that you are the creator, and the templates are only one tool to get you started.
How will you adjust this template? Or will you use it as is with 4 photos? It is up to you.
Remember to show us your page so far in the forum. Just resize it to 600 pixels first.
Are you a DIAMOND member? If so, log in to get the link to download the printed instructions, and 9 additional templates.