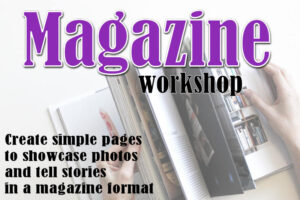 Day 3
Today, we'll also work on a page with a single photo, but the tutorial will be about the title that you can create in a unique way while still keeping everything cohesive.
You can download today's template HERE.
This template prompts you to create a title that will overlap the photo. Let's see how much fun that can be.
How about that? Wasn't that easy?
Remember to show us your page so far in the forum. Just resize it to 600 pixels first.
Are you a DIAMOND member? If so, log in to get the link to download the printed instructions, and 9 additional templates.