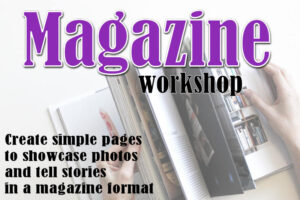 Day 2
Today, working with a different template, we will look at tweaking a mask and adding a story. A magazine format is a great place to have text to tell a story, with as many details as you want. After all, when you go through a magazine, you will likely be reading articles, right? So it is your turn to make such articles for your particular topic. And don't worry about writing like a reporter; just be YOU.
You can download today's template HERE.
This template still has room for just one photo, but it also has space for some text.
Note: if you are using PSPX7 and above and are using the Text wrapping feature, make sure you have NOT set the compatibility settings when you save the .pspimage format to match an earlier version of PSP (which would be needed if you want to share .pspimage files with those using an earlier version of PSP). If you do, your text will automatically disappear when you save the file and your work will be lost!
And you are done your second page. As you can see, it is a very simple layout and it should not have taken you too much time. Did it?
Remember to show us your page so far in the forum. Just resize it to 600 pixels first.
Are you a DIAMOND member? If so, log in to get the link to download the printed instructions, and 9 additional templates.