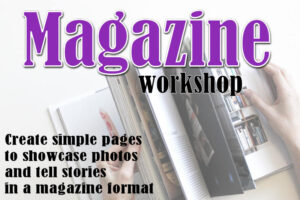 Day 1
What will your magazine be about? A recent trip to Hawaii? All the flowers in your garden? The birds you love to observe? A sport you are a fan of? Just make sure you have a common theme for all your pages.
For the first project, let's use a simple template where you will just add a single photo. It will be your cover page. Of course, any magazine needs a cover page so you can use the best photo you have or one photo that represents the theme of your magazine.
You can download the first template HERE.
You will notice that the template was created with mask groups. This means that you will have very little cutting to do.
So? Not too hard so far? This cover page is great for showcasing your best photo. If your photo is horizontal and you really cannot find a way to make it fit into the vertical mask, you always have the option to rotate that whole template by 90 degrees. If that is what you need, go to Image > Rotate Left and the title will now be on top and your photo on the bottom. Of course, in that case, you will HAVE to rotate the title, and using a multi-word title might not make sense.
Remember to show us your page so far in the forum. Just resize it to 600 pixels first, save it as a. jpg and it will load fine. It is possible that your page will change tomorrow or next week. It is ok. You can then show us the revised version when the time comes.
NOTE: if you plan on using a different format than the traditional 12x12 inches square scrapbook layout, you can resize all the given templates to a different format (like 8,5x11) with the Resize option of PSP. Simply make sure you UNcheck the Lock aspect ratio in the Advanced settings. If you choose to resize your templates, save them with a different name, just in case you want to reuse the standard 12x12 ones later.
Are you a DIAMOND member? If so, log in to get the link to download the printed instructions, and 9 additional templates.