November 18, 2022 at 10:07 pm
#86958
Linda J Walker
142

Junior
Only Card 2 for me–enjoying seeing all the different things we are coming up with!
In the past year, I have had several of my doctors move–one stopped practicing, one moved out of state, and one is a mystery. If I had the opportunity to send them cards, it would be something like this….Blessings on the new adventure. And I sure do miss them all!
A few card making tips–If I am planning to print a card on my home printer, I try to avoid areas of solid color-someone mentioned that earlier. I also add old fashioned crop marks on the corners and I mark the fold line and score it lightly with the end of a burnisher. Paper and card stock has grain, even if you can't see it, a score line makes it fold easier. Often I will find the envelope I plan to mail it in first, and design the card to fit the envelope. It is upsetting to print several cards and then realize I don't have, or can't get the right size envelope!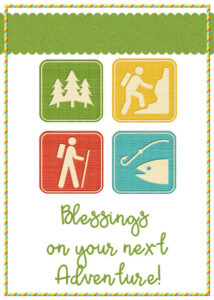 2-CardWorkshop-600