October 24, 2022 at 9:44 pm
#85058
Mary Solaas
536

Enthusiast
Everyone in the Alphabet Challenge seems to be nearing the end. I'm still in the middle. Finally finished M. I have so many pictures (I chose M is for Memphis). My daughter and I went around town getting pictures of all the wonderful things there are in Memphis – if someone came here as a tourist intending to take in everything that is available, they would be here for more than a month! Can you tell that I love Memphis? I have enough pictures to fill a complete Memphis album, but that is not now!
The font is Broadway BT. Used so many things Carole has taught us in the labs, tutorials, Master Classes. Oh, yes, and I have been using Carole's scripts that I have purchased. The Clip to It script I use a LOT! The Curled Ribbon script I've used more than once, and I don't always curl the ribbon around another element. I made the pyramid brad using the tut in Lab 8 Mod 8 and applying a filter from Filter Forge. I modified one of he templates so that I could do some journaling also. This has been fun – both gathering the pictures and creating the layout.
It seems that we all have been having thankful thoughts about belonging to this community and being inspired by Carole and each other. God is good!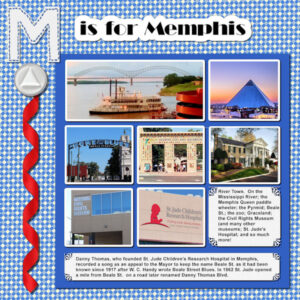 M-is-for-Memphis-a_600