October 23, 2022 at 11:11 pm
#85013
Anita Wyatt
174

Junior
Her is my Calender Page for December with Castle Cochem all decorated fir Christmas.
Cochem is a picturesque town in the Moselle valley known for beautiful day hikes, excellent wine and cultural sights. The riverside town is overlooked by the charming castle of the same name which, in the weeks leading up to Christmas, opens its gates for a guided nativity play with actors in authentic costumes and live animals. At the end of each tour, you can stop at the small Christmas market in the courtyard. For more festive flair, head to the market square in the old town centers and end the day with a wine tasting and fresh waffles.
For the background I used a paper from Digital Scrapbooking and used a blend mode  of Lighten, then used opacity of 82. The font is called Christmas from Creative Fabrica. The Holly is from Digital Scrapbooking.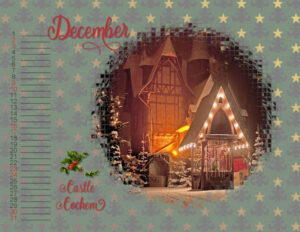 Calendar-12-Dec-2023-scaled-1