October 21, 2022 at 6:01 pm
#84903
Jannette Nieuwboer-Dons
175

Junior
James Brady, Nice frame around your latest work.
Here is my attempt 2. lesson Busy Bees.
A different subject. I took some flower images from the internet. Placed some insects on it and created a symbiosis. The scrap kit is from Pink Paradox Productions – All Natural.
I still have problems with that zigzag edge in the PSP 2020. After many attempts I got one pretty neat, duplicate it, and turned. But this is not the way it should be.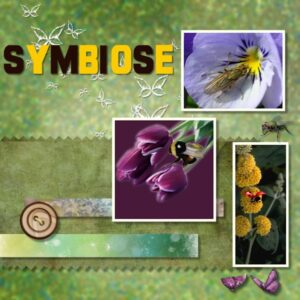 Image1-symbiose