September 10, 2022 at 6:24 pm
#82670
Corrie Kinkel
949

Superfan
As I'm finished with the treasure hunt and its puzzle, I decided to play Bingo!
I choose: Colored Bricks – Felt Texture – Word Frame – Linoleum Pattern – Curved Photo
As a starting point I used a template from the Wise Words Challenge I once did, but I changed it somewhat. I made the bricks and felt texture in the circle;  linoleum and word frame I have used often so that was easy to do and for the curved photo I used the Curved Photo script by Carole. The blue paper has a blinds texture and the font is Ministry of Moron. All the colors I used are taken from my photo, a autumn composition on a little table in my courtyard, which I took last year.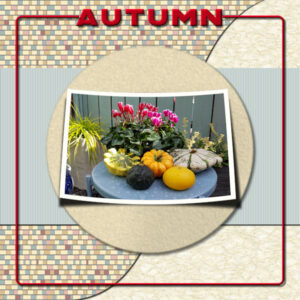 Bingo-Sept.2022-600-1