August 20, 2022 at 2:24 pm
#81305
Susan Ewart
611

Enthusiast
Finally back at it, here is my Lab Module 5-12.  
Arrows – loved this one and never would have guessed how to do this on my own.
Cogwheels – you could get lost in all the variations there is to make, really enjoyed it, but not so great at designing them into a layout, looks like a rats nest (err, uhm..I mean a Squirrels nest).  Fun to make though.
QR code – had some problems with this but got there in the end. on this layout I made it super small and lowered the opacity….cause well, I forgot about it until I was checking to see if I added all the elements so it's just stuck on, it doesn't look good in this layout.
Fonts are Masha (Creative Fabrica) and Masterfile (Google fonts).  Wood paper and overlay on the green paper from Digital Scrapbook.  Green Paper mine using texture effects.  Used texture effects on the cogwheels and arrows and main title font and inner bevels and used hue/saturation/lightness and opacity on papers/elements.  Did not shadow the "baby" word as it's meant as if I wrote it on afterward in felt pen, on a uneven surface.    Story of the new "white-tail" generation may be in the Story Time workshop coming up.  Photo is mine.
Everyone's layouts are so creative and a joy to see.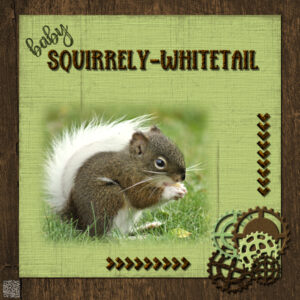 Lab-5-12-baby-squirrely-whitetail-QR-code-600