July 25, 2022 at 5:03 pm
#80007
Ann Seeber
1083

Superfan
Doing the Basic Scrap Course, just the final two Modules as they are new. Here is Module 6– all about my maternal grandparents coming to America. The title font is Snap. I'll post the journaling too as it's hard to read in 600 format.
"Emil Haggquist and his wife Selma Hammär Haggquist arrived in New York from Sweden via steamship around the turn of the 20th Century. They entered the United States through this huge Immigration Hall on Ellis Island, located in New York harbor. At the height of the immigration rush it could hold 8,000 people at one time.
Immigration officials wouldn't deal with the unusual spelling of his last name, so, willy-nilly, my grandfather became Emil Higgins. His birth certificate stated he was from Russia, but it was actually Finland that was occupied by Russia at the time. Selma had been a widow from Sweden and brought along a daughter, Agnes, from her first marriage. Settled in New York City, they had 2 more children; my uncle Stanford and my mother, Mildred."
This reply was modified 2 weeks, 5 days ago by

Ann Seeber

.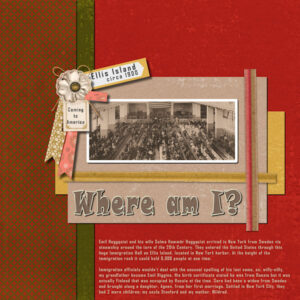 IMMIGRATION-HALL_600