May 18, 2022 at 7:28 pm
#76821
Mary Solaas
452

Enthusiast
Well.  This is QP-2 Extra.  Yes, I was playing with the Master Class method of changing color.  This time I used a solid color to change the papers and elements.  Used the Hue layer.  I also had to put the picture on top of the layout since it colored the picture too.  How do you keep from doing that????
Carole??  Pirkko?? – I noticed that your picture is in the proper location (below the QP) but it is not colored.  How did you do that????
And so, I copied one of the stars from the top and put it on the ribbon below the picture and erased the wording on it since it didn't work with the picture on top.  Anyway.  This method of coloring is interesting but takes much studying to make it work the way you want it to.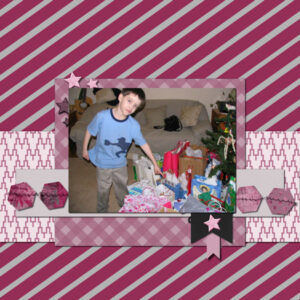 QP-Extra-2_600