April 21, 2022 at 12:44 am
#75590
Susan Ewart
379

Enthusiast
Here is my Day 9 project 4.  I'm not real happy with it yet.  PSP was acting weird tonight and when I saved it as a jpg the 'l' and the 'e' in 'Blue" changed colors to a darker yellow-red.  They were like the 'a' in 'jay'.  And it's only the -600 resized version that is like that, the large jpg has the lighter colors in the letters.  I wanted to add water drops as scatter but Digital Scrapbook was down for maintenance.  I tried lots of elements but have yet to find one I liked.
I really enjoyed the pages I got to see tonight.  Beautiful work from everyone.
This reply was modified 1 month, 1 week ago by

Susan Ewart

.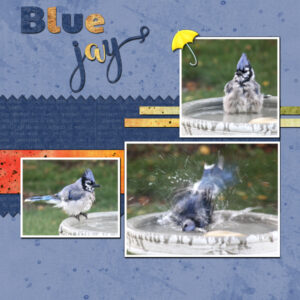 Project-4-Day-9-Blue-Jay-Bath-600