April 13, 2022 at 4:10 pm
#75218
Susan Ewart
372

Enthusiast
I agree with Mary, Nel (#75198) and Susanne (#75213) have beautiful layouts.
Here is mine.  Papers, trees and snowflake scatter are from Digital Scrapbook.  Little fox from Creative Fabrica. Photo is mine. Fonts are Loving Austin (from Creative Fabrica) and Segoe Print (windows font).
Ann, I love you plate, I'm going to have to learn how to cut my sandwich…I am supposed to be civilized after all 😂.
I added the fox cause he is cute and the right color and why not?  I hope I got the shadowing right on him, didn't make sense to have it below him as he's supposed to be laying on the frame.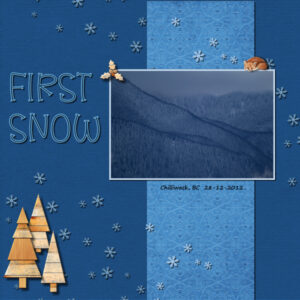 Project-1-day-3-First-Snow-600