April 12, 2022 at 11:42 am
#75144
Susan Ewart
372

Enthusiast
Here is my table.  I made a club sammy for my hubby.  Added chicken meat too and some extra pickles ( he doesn't like them, so I'll get to eat them…that's why I added more 😊).  Coffee is the order of the day…it's still morning, he likes it black.  I bought a table cloth from Creative Fabrica for the table (okay, by "bought" I really mean FREE!).  He's upstairs eating it right now, and he even noticed the table cloth.
Him:  Is this a new table cloth
Me:  oh no, we've had it for months
That's how it goes when I buy something and try and sneak it into the house without him noticing…it's a running joke. He doesn't care if I buy stuff, and well, I don't buy stuff that often.
Cant wait to see all the participants yummy tables.
This reply was modified 1 month, 1 week ago by

Susan Ewart

. Reason: Worse grammar than normal!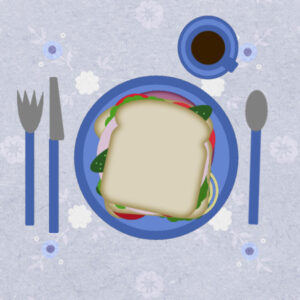 table-BC-April-2022-600