March 27, 2022 at 9:48 pm
#74437
Susan Ewart
372

Enthusiast
Thank you Carole!   What a fabulous and comprehensive workshop.  Having 3 great workshops back-to-back was just the immersion I needed.  What a huge undertaking for you, and I truly appreciate all of your work and guidance.
This is my final layout.  Photo's and wood stands are mine, glass is the incredibly talented Melanie Rowe.  the two background papers are Digital Scrapbook and font is Aclonica, not sure if it's windows or Creative Fabrica (CF I think).
I have learned so much this past year and dare I say, I might be getting a wee bit better at it.  I took my first workshop (Bootcamp) in May 2021.  My pace is slow, but I'm coming along thanks to the Scrapbook Campus, Carole and all the students and members.
Now I get to grab a tea and look at the amazing creativity of all the students.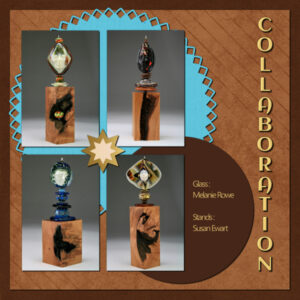 Lesson-7-Collaboration-600