March 24, 2022 at 7:23 pm
#74096
Theresa Di Cesare
37

Rookie
I stuck with the open layer script and was impressed – saved time along with the CTRL Y that I'd forgotten about!!!
I had a spot of trouble with getting my photo to 'fit' on the shape. I did the magic wand to make it only go on the shape but at first the photo had a large chunk missing, as if it was within another mask/shape… I kept at it and finally it went right, but to be honest, I have no idea if I had done anything different but it seemed to have just worked!
Here is my Day 3 page – I used various papers from Digital Scrapbook – Gina Jones February Kit. The photo is of crocuses that are in Mums garden.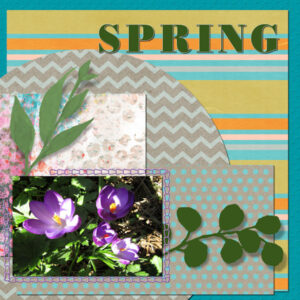 SPRING-TEMPLATE-WORKSHOP-3-600X600