March 24, 2022 at 3:14 pm
#74055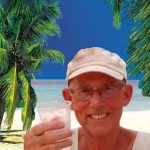 Jacques
45

Rookie
I don't have much time these days because in a few days I will leave for the Netherlands again after having spent the winter on Bonaire since November.
I am working on the templates and have given them my own interpretation.
I copied the circle of day 1 a number of times and put the faces of the guests who were at a birthday party on a boat at sea.
I added an appropriate music track and made a video of the 8 photos.Through this exercise I learned how to use the Magic Wand well.
Unfortunately I can only post the frames but if you want to see the movie, send me a message, the movie is 874kB