March 24, 2022 at 1:57 pm
#74033
Gerry Landreth
129

Junior
Every year, my nieces get together for a "sisters' trip." Last year's destination was Savannah, Georgia.
The steamboat picture is from Freepik.com and the font is Rachel Brown Display Font.
Carole: RE: the family picture, I believe one of my cousins has the name of everyone in the picture. One of my uncles was an authority on the Landreth family, tracing our generation back to Scotland in the 1500s. Before that, written records were scarce or nonexistent so he spent time with distant cousins to gather stories for an oral history.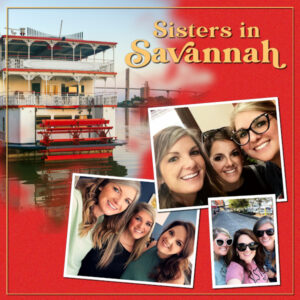 GNL_2022_TemplateWorkshop_Day4_600