March 23, 2022 at 1:38 pm
#73936
Theresa Di Cesare
37

Rookie
Sue and Carole – Thank you for your help. Managed to erase the bottom of the pic that was showing.
Here is my template 1 – When my granddaughter comes to stay she always asks to go and see the horses, mule and donkey that have been rescued, and live not too far away from us.
The papers I used were from Digital Scrapbook and were from the February kit. I used the hue, lightness and saturation to change the colour of the spots to compliment Isabel's clothing.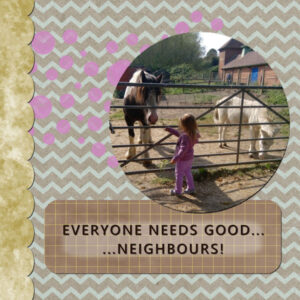 NEIGHBOURS-TEMPLATE-1-600X600