March 21, 2022 at 2:18 pm
#73765
fiona cook
93

Junior
Hi, My first template is a bit abstract, using a photo I took of a dandelion seed head. I wanted the shadow to be quite soft so exaggerated it and applied the blend mode 'Lighten' which softened it some more.
All the patterns are from Digital Scrapbook. The cream pattern (Dandelion paper by Sheila Reid) I used for the background as well as for the bubbles and adjusted the contrast levels as in the lesson.
The rectangle is  a close up of some wool.
Typeface is 'The Madelin'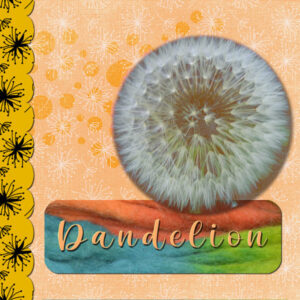 Lesson1