November 22, 2021 at 10:31 pm
#68014
Sue Thomas
1181

Superfan
Lovely pages ladies!  I could read it Trish.
Here is my page.  I enjoy these challenges, this one is al lot like the scavenger hunt, which is my favourite challenge.
Other than the  two elements, the  frosted leaves, and the  pine cone cluster,  it's all my own work. I opted  for a white silhouette, of one of my owls, which I added to the tag I made. The camouflage I made using the grouse photo,  was  a little  to bright for the page, so I lowered the brightness, and added a small blur.  I used the  same camouflage paper to create the top arrow  strip, by using the  kaleidoscope tool.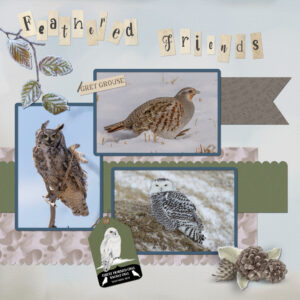 November-Random-challenge-1