October 20, 2021 at 10:38 pm
#66331
Linda J Walker
56

Junior
I only got one done today, too much to do again…sigh…  I have a limited number of fonts installed at the moment, because I have a new laptop. So I need to get the fonts off my old laptop, I have to add that to the list. Didn't use any glyphs, but I did use the copyright symbol on the photo, and did experiment with the character map.
Carole, yes, I had the setting wrong on the fill tool!
So enjoying seeing all the calendar pages from everyone!
Just wondered–on our profile photos on the left, what does the number under the photo mean? Maybe that is a silly question?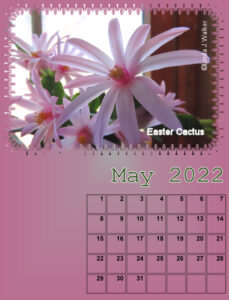 My_Calendar-05-2022_600