February 14, 2021 at 12:31 am
#53279
Bonnie Ballentine
829

Superfan
Annie, I am old!..and proud of it. Took a long time to get here!
Karon, I used Carole's scattered photos script for these recent pages. I also enjoy using templates…in fact I am using a template for a non-pickleball page I'm working on. I'll post it once it is complete.
Minka, I'm glad you checked out the pickleball. Do you think you may try it? Let me know if you do. I sometimes get to Florida…and sometimes to Portland, ME. Maybe you and I could play a game or two.
Another pickleball page from me…used the scattered photos script…Look at Michelle…she is off the ground in two of the pictures…and we are a senior group…older than dirt…some of us.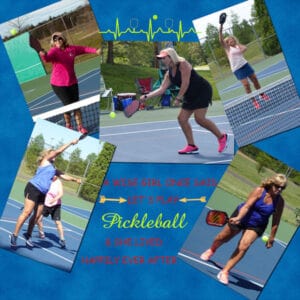 2021-2-5-Michelle-PB-600