February 12, 2021 at 2:13 pm
#53030
Cristina
1176

Superfan
Wow, beautiful, beautiful layouts have been posted here. Great work, Everyone!
I am getting behind, and only today I could finish my Day 3 layout. I was playing with the mask and couldn't stop.
Last year, there were not many places my husband and I felt comfortable going, as we wanted to avoid crowds as much as possible. So for this challenge, I am only using photos from two places.
The butterflies are brushes with the kaleidoscope pattern.
Credits:
Melo Vrijhof: Template with a few tweaks —
KAagard: pattern2 paper "Great Outdoors" kit / Jul17CCM Border Stitches1
Belly Gypsy: Alpha "Frontier"
Fonts: Decomart FF 4F – Typewriter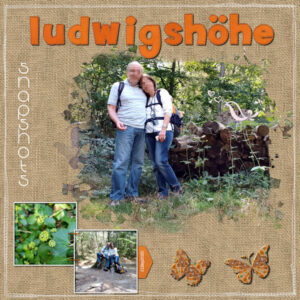 2021Love-Story-Day3F