December 8, 2020 at 10:04 am
#50236
Cristina
1138

Superfan
I finally managed to finish a few days ago the Day 9 – Project#4 layout. I only worked a little bit daily, so it really took longer than I expected.
Kit: Winter Fun by DiHiller – PixelScrapper 2017Feb — Scatter element by dedesmith_anaab_scatterz.
The city gate's photo was not the best, but it was the only one I had. I only had these two photos from the subject, so I created a Postcard to add some information, the Photo Stamp, and the Date Stamp following Cassel's tutorials.
Fonts: Service Station and Marquisette BTN Lined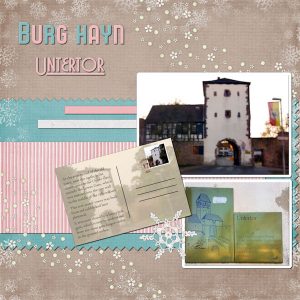 Day9-Project4