November 26, 2020 at 10:30 pm
#49828
Linda J Walker
21

Rookie
Page 4
For this page I used some new photos that I took this summer, when the days were warmer!
I watched some tadpoles turn into frogs and hop away. It was fun to check them each day and see their progress.
Carole, I really like having 2 days for each project. That gives me some time to think of what photos I want to use.  And to plan when I will have time to sit down and work on it.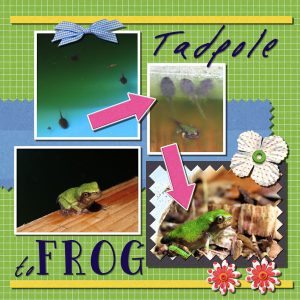 Image5-600