November 25, 2020 at 7:09 pm
#49792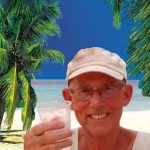 Jacques
32

Rookie
Day 9 Project 4
For this project I used a few old and a more recent photo. I made a border around the black and white photo, but a serrated edge was not beautiful.
I also took a selection from a photo for the bottom background that I took underwater with my GoPro.
I have added a few elements to that.
Here too I left out the serrated edge, I tried it first but was not satisfied.
At the top I kept it simple, downloaded a few elements from Pixelscrapper and finally a nice title.
I also had problems with the "flood fill" but your response in Scrapbook Campus solved the problem.
Caren, thank you for your quick response and I downloaded the PDF to review later.
When you are 76 you need a lot of reference work because memorization is getting more and more difficult.
But I enjoy every new case.
fishermans-Latin600