August 18, 2020 at 4:37 pm
#46173
Gerry Landreth
45

Rookie
This story describes a special moment from my first weekend with The Boys. I was apprehensive. Not having children, I was in uncharted waters. How do I entertain two rambunctious boys?
My deep knowledge of SpongeBob helped with the 5-year-old. Cooking breakfast with the 8-year-old was a plus. By the end of the weekend, Uncle Gerry was the "awesomest!"
Watching my mother putting them to bed brought back warm memories of being a sleepy boy who tried to stay awake and then couldn't wake up. It was a feeling of being safe. A feeling of love.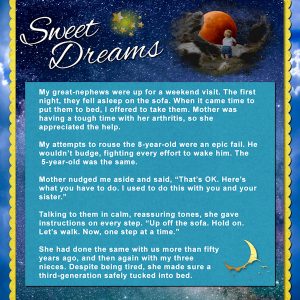 StoryTime-Challenge-Day2_600