August 16, 2020 at 5:04 am
#46057
Cristina
1056

Superfan
Here is the layout I created to practice the tutorials from the Lab10-Module 7 (Negative Effect – Layered Shape – Clapperboard). It was fun, and every time I practice new tutorials and participate in the challenges, I learn a little bit more.
The negative effect (arrow) is very subtle because I thought the layout was already too busy with all the patterned papers.
I used the template from the Lab5-Module10, tweaking a bit to suit my needs.
Background paper  "Painted Paper2" – Paint paper 05 by Melo Vrijhof (Pixel Scrapper).
Other papers by Kayl Turesson – Pixel Scrapper 2019May Spring Cleaning Blog Train.
Ribbons: FD_BeOfGoodCheer_RicRac_07 / ps_janet-scott_37941_quilted-with-love-geometric-ribbon
From Cassel: Admission Ticket (Creative Scrap>Tags and Journaling>Ticket) and Brad (Creative Scrap>Miscellaneous>Flair Button).
Fonts: Bariol Bold and Hobo Std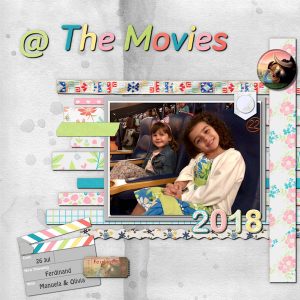 Lab10-M7